We all know making a commitment to your own health & wellbeing is important and we choose to do so for personal & individual reasons. Some of our members come to Body Reformers for functional fitness and to maintain or lose weight. Others have goals that they want to reach while some just enjoy the mental stimulation that Pilates and Barre offer. Whatever your reasons may be, we are aware that sometimes it is difficult to maintain continued motivation and purpose. If you are looking for an incentive to keep being the best possible version of yourself, you may want to consider Body Reformers 4-week Spring Challenge.
A fitness challenge which has a start and finish date is ideal for creating new habits. By creating a goal and being clear about what you want to achieve within a specific timeline, you maximise your chances of success. Having that initial Body Scan can be daunting and very confronting, but we are there to support you and sometimes we all need that reality check to get us motivated.
The key factor in a fitness challenge is taking a complete approach combining both exercise and nutrition, and not one fits all. It is important to enlist a supportive network of experts who can provide specific exercises, the right nutrition, and lifestyle changes for you. Connecting with a group challenge has also been proven beneficial in keeping each other on track. It is important to have someone that can hold you accountable and who You can hold accountable in return.
Body Reformers can help you create healthier habits with our 4-week Spring Challenge, which will set you up on a road to long term and life-long changes. We include consultations with a naturopath who will develop a personalised nutritional eating plan, group challenges along with our low impact/ high intensity classes from BR's inspiring team of instructors. All within a friendly and supportive environment. Let us help you step into Spring stronger, healthier and happier.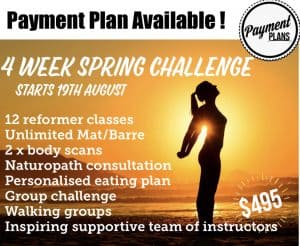 "If it doesn't challenge you, it doesn't change you."
-Fred DeVito