A Pilates Reformer Studio offering small group and private classes in a beautiful beachfront boutique studio. Classes include Pilates Reformer, Matwork Pilates and Barre.  All classes are taught by highly qualified, professional and experienced instructors. We cater for all fitness levels with a focus on increasing strength, flexibility and functional fitness whilst developing a better mind body connection.
We want to change the misconception that pilates is easy. At BR we deliver body changing experiences and it should be respected as one of the hardest most challenging forms of exercise. A studio that is your space, a place you come to get away from the outside world and work on you, somewhere you can be yourself, but be your best self !
The team at Body Reformers are dedicated to empowering our clients to become the best version of themselves.
To book a class please download the Mind Body App and choose Body Reformers as your favourite or simply book below.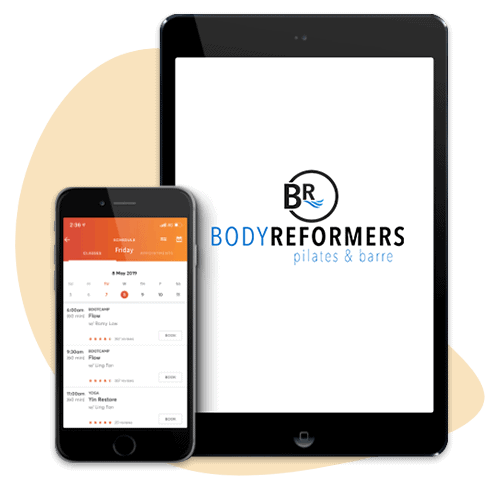 We at br draw on the traditional pilates principle developed by joseph pilates. we combine these theories with our unique br method of training.

Our classes focus on isolating a muscle and working that muscle to fatigue, to create long lean muscles FAST! This method is proven to make real changes, designed to improve posture, tone and build muscle and give mental health benefits that keep us sane in this crazy world! The addiction is real and we will not be held responsible for that …. scrap that , we are guilty as charged!
This concept is defined as physically bringing the focus to the centre of the body, the powerhouse area between the lower ribs and pubic bone. Energetically, Pilates exercises are sourced from centre.
If you bring full attention to the exercise and do it with full commitment, you will obtain maximum value from each movement.
Every Pilates exercise is done with complete muscular control. No body part is left to its own devices. It is all a conscious, deliberate movement that the mind is controlling.
Every Pilates exercise is done with complete muscular control. No body part is left to its own devices. It is all a conscious, deliberate movement that the mind is controlling.
In Pilates, awareness is sustained throughout each movement. There is an appropriate placement, alignment relative to other body parts, and trajectory for each part of the body.
Pilates exercise is done in a flowing manner. Fluidity, grace, and ease are goals applied to all exercises. The energy of an exercise connects all body parts and flows through the body in an even way.
I have been taking Pilates classes with Liza since she started.  I was encouraged to try it when Liza explained the benefits it can have with strengthening the body, improving posture, the list goes on! My main interest was due to a ongoing issue I had with a clicking hip and numbness in my toes, which ran up to just below my knee.  I had been to two other allied health professionals prior to this with no improvement. I noticed a huge improvement in both of these issues while doing Pilates on a consistent basis within a couple of months. The numbness completely stopped and the clicking was minimal.  I think with regular practice and time I won't have these issues at all. I feel stronger and more toned from Pilates and the Barre classes that Liza takes. I would highly recommend Liza to anyone who wants to have fun and get fit without the high impact exercise and the injuries that usually go with it.
Kirsty
Scarborough
With hip and shoulder injuries I found it difficult to find an exercise that didn't make the problem worse. Pilates not only achieves that but actually provides immediate relief like nothing else I've tried. Liza's classes are amazing. Her energy and passion shines through and her attention and direction on maintaining form and adjusting exercises to work around these issues is stellar, not to mention born out of her own personal experience. I'm really excited about the opening of the studio and the expansion of classes as I will now be able to do them regularly. Liza and Suzanna are bringing something really special to the peninsula and if you haven't tried their classes you are seriously missing out!!
Sharon
Newport
I arrange my week around fitting in Liza's barre class. Over the years I have been to countless gyms and done a variety of classes but nothing compares to the benefits I feel and see from doing this class. Posture and strength has improved and no lower back pain. Such a professional in her field with such enjoyment and fun shared with all who attend. I can't recommend it and her Pilates classes enough!!
Jo
Kippa-Ring
I've never really enjoyed pilates before so my first class with Liza was a pleasant surprise. She's a great instructor – very patient, makes the class fun and explains the "why" as well as the "how" of each component. I'll definitely be back to the pilates class and will be booking in for a barre class at the earliest opportunity too.
Bee
Kippa-Ring
Friendly, fun classes that encourages a stronger, fitter body. Suzanna always brings different moves, music and knowledge to her classes which makes her exercise sessions a new experience every time. After six months attending her pilates classes, my body has toned up, my core strength has really improved and I understand how to do the exercises correctly.
Donna
Scarborough
Suzannas' classes are the best combination of fun, motivational instruction and challenging moves. All fitness levels are catered for with the level of difficulty options clearly explained and demonstrated. Suzanna keeps classes fresh, safe and up to date using her regularly updated professional training. Since attending her classes my core strength, toning, balance and posture have improved out of sight. Suzanna is the ultimate trainer, approachable, knowledgeable and inspirational!
Helen
Scarborough
I do 2 classes a week with BR and they have been fantastic !! Both Suzanna and Liza are such encouraging and enthusiastic instructors. I have done many different classes over the years and these are great ! Do it!
Rachel
Woody Point
Challenging, motivating, transforming, amazing! The girls are just awesome and really want you to get the most out of each class.  LOVE IT!
Angela
Redcliffe
I exercised the same way in my teens, 20's and 30's.  In my 30's I had 4 kids the natural way.  When I hit 40 I had to stop exercising the way I always had because of terrible stress incontinence.  By the time I was 43 I was told I needed a hysterectomy and an AP repair to fix my pelvic organ prolapse.  Not wanting to give up my uterus, I thought I'd try a bit of pilates.  I had dabbled before.  After about 14 months with Suzanna and Liza, doing no more than 2 classes a week, I am thrilled to say that my gynaecologist now believes that there is no need to operate.  My symptoms are hugely improved and my uterus is now being well supported by a much improved pelvic floor.  Thanks Girls. Life changer.
Leanne
Clontarf
My specialists recently said my movement in my arm is amazing – almost 100% – he was amazed, I told him it was Pilates !  I did start Pilates to get stronger and for my sanity.  So thank you!
Donna Green
Woody Point
Since the birth of my second child it's been a struggle to be my best self. It didn't help that I tore my rotators and broke my shoulder on my due date, or the birth related issues that meant my body can never run again or the Hashimotos hypothyroidism that I blamed for the weight piling on. I felt exhausted and had brain fog, a total disconnection with life.
Suzanna and Liza had always inspired me, and I have joined every challenge they ever ran, but it was the Body Reformers retreat that my friend made me go on (Thanks Tash) that provided the mindfulness I needed to get in the right headspace. 
Entering this challenge felt different, with Suzanna and Liza's help modifying, I was able to finally challenge myself, and do exercises I never thought possible. 20 classes later in 4 weeks and I really feel different and am excited for my future healthy self.
As a side note my physio has said I am in the best shape they have seen me, my child birth issues are almost non existent and after a year of gluten free and excercise my thyroid is healthy with no sign of hashimotos.
Thanks Liza and Suzanna for being my catalysts for change! I highly recommend a challenge to anyone wanting to see amazing results.
Tanya Cope
Woody Point